Sony Tablet S Android tablet
Sony
announced its S1 and S2 Android tablets at the end of April.

Sony Tablet S

is an Android tablet running Google

Android 3.1

Honeycomb mobile operating system. The Android tablet measures 9.5 x 6.8 x 0.3 inches and weights 5oz.

Tablet S

is powered by a NVIDIA Tegra 2 dual-core processor, and comes with 1GB RAM, built-in 16GB storage capacity, 9.4-inch brilliant TruBlack display with 1280 x 800 pixels resolution 0.3-megapixel front-facing webcam, 5-megapixel rear camera and full-size SD card slot.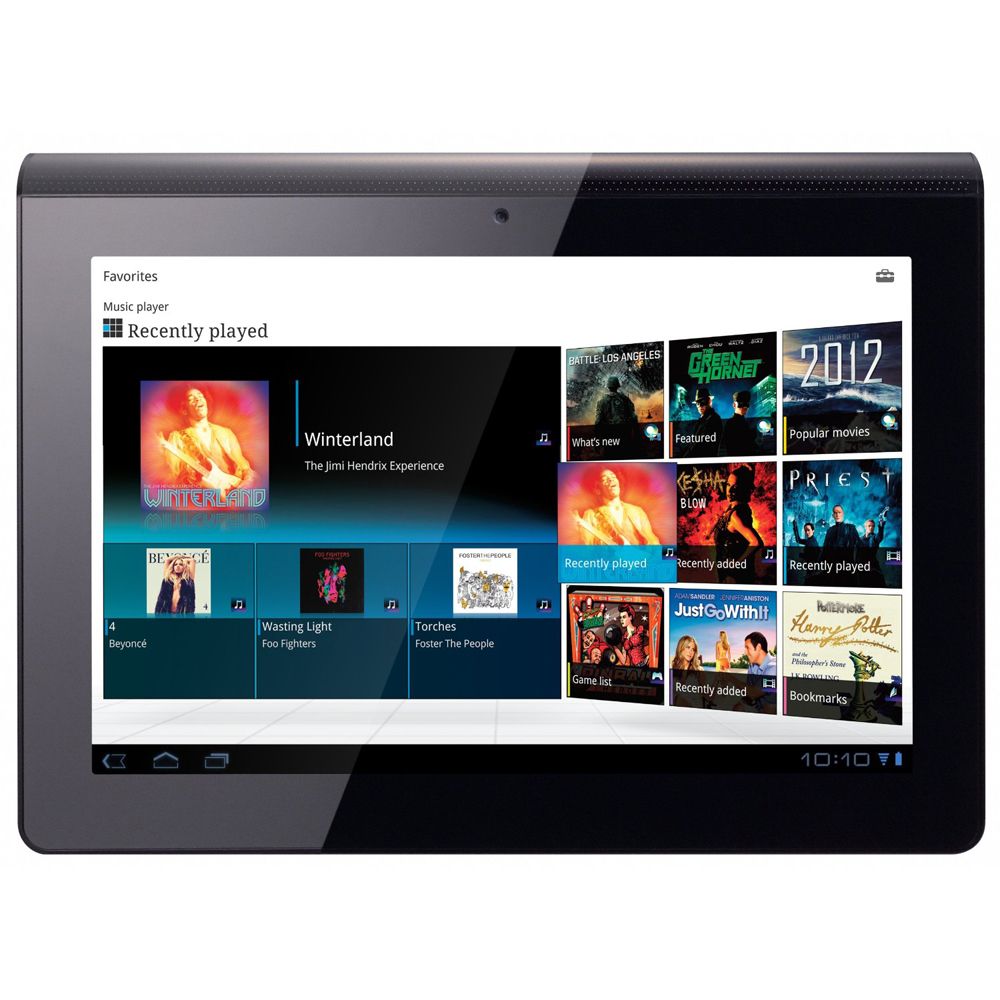 This Tablet S unique, for starters, is the tablet's tapered design, which grows from 0.3 inch at its thinnest edge to 0.79 inch at its deepest. The Tablet S eschews the usual flat-slab look. Sony says the design was influenced by the curve of a folded-around magazine.
Sony has the slimness of an Apple iPad 2 or a Samsung Galaxy Tab 10.1 in favor of something distinctively pleasing to hold.
The design offers two benefits: First, at the thicker side, the plastic curves around the edges, making the device comfortable to hold. Everything on the screen flips orientation based on the accelerometer, so you can hold the tablet just as comfortably in your right or left hand. Second, the wedge design provides a gentle incline for typing, making this tablet more natural to use than the flat slabs.
Sony

Tablet S

also features a built-in universal remote control that allows you to control your Sony products or other brands. As the first PlayStation Certified tablet, Tablet S provides two classic PlayStation games Crash Bandicoot and Pinball Heroes, and you can also download more classic PSone and PSP game titles online. Apart from that, The connectivity features WiFi and Bluetooth, and the Android tablet has a built-in 5000mAh rechargeable battery.
Sony Tablet S 16GB is priced at $499.99 USD. At present, Sony has started accepting the pre-orders of the Android tablet. If you're interested, jump to Sony official site for more details.
Specifications:
Display
Screen resolution 1280x800
Expansion card slots
General
GPS
Input
Keyboard type Touch screen
Mail / Messaging
Messaging capabilities E-mail
Microsoft Exchange support Yes
Memory
Mobile phone networks
Multimedia
PIM (Personal Information Management) features
PIM features
Alarm, Calculator, Calendar
Power
Battery type Rechargeable
Processor
Size and weight
Software
Operating system Google Android
Storage
Supported memory media
Memory Stick Duo, Memory Stick Pro Duo, SD
Supported file formats
Wired connections
Wired Terminals / Ports
3.5mm headphone jack, micro-USB
Wireless connections
Wireless technology supported 3G, Bluetooth, DLNA, Wireless 802.11a, Wireless 802.11b,
Wireless 802.11g, Wireless 802.11n
*Specifications are subject to change without notice. While every attempt has been made by IDG Communications in the production of these specifications, possible errors or omissions may still occur. IDG Communications neither assumes legal liability or responsibility for the accuracy, completeness or usefulness of any product specifications supplied.